2Kcal Slimming TEA 1BOX
(10ea/1box)
Reduce Bloating
For Slimmer Legs & Face Lines
Healthy Nature-origin Ingredient
NO Sugar, NO Artificial Sweeteners
1 box = 10 packets!


UP TO 20% OFF!
Full Ingredients

Glam.D V Extract (Jujube, Bamboo Leaves, Burdock, Stir-Fried Buckwheat, Dried Ripe Pumpkin, Sword Bean, Seaweed, Corn Silk, Chenpi, Licorice, Cnidium, Korea Angelica, Marte), Enzymatically Modified Stevia, Synthetic Flavour (Herb Flavour)
How to Drink

Shake the pack well before opening.

Drink freely in place of your usual refreshments. There are no limitations on daily consumption.
FAQ

Is there any limitation for daily consumption?
There's no daily limit for this product! We recommend following the direction for consumption. Click on the "How to eat" tab!

Can I drink it while pregnant or breastfeeding?
When pregnant or breastfeeding, it is recommended to speak with your doctor and take the precautionary measures you see fit throughout your pregnancy. We want you to feel assured that you're using only the right products for your precious little one!
How do I store the packages?
Store at room temperature away from direct sunlight. If you'd like, you can store the pouches in the fridge for a cool glass of tea! However, we don't recommend freezing the pouches!

Get Glamorous
Here at Glam.D we provide you with a complete guide not only for weight loss, but also for living a balanced & healthy lifestyle. Glam.D has designed a tailored product for every body type and dieting need. You're sure to get GLAMMED on the inside and out with our perfect solution for healthy dieting.

Trusted and Qualified GLAM.D
Real Customers. Real Results.*
*Individual results may vary.
No More Bloating!
Perfect pumpkin taste from 367 days of research!
Ingredients from nature - Glam.D V Extract
No sugar and no artificial sweeteners!
Recommended for
Salty Food Lovers
Anyone who likes salty foods
Reducing Puffiness
Anyone who spends long hours
sitting or standing up
Chronic Bloating
Anyone who experiences puffiness in the morning
Main ingredients
Ripe Pumpkin Extract:

Sweetened naturally and packed with vitamins
and minerals from ripened pumpkins.


Jujube Extract:

Rich in glycine amino acid


Bamboo Leaf Extract:

Full of rich peptide ingredients
Safe Glam.D
Glam.D is dedicated to producing the best-quality and safest products backed by researchers and experts in the field.
Customer Reviews
Write a Review
Ask a Question
04/13/2021
Taste good!
This is my 1st purchase. The taste really good, very mild natural sweetness. Not sure if it will make me lose weight but I just enjoy the drink!
My O.

Singapore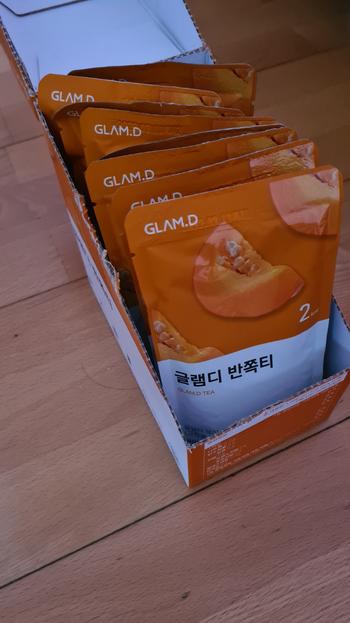 02/23/2021
Slimming Tea
Can't tell the V shape coming out like advertised but it's a good substitute for tea break for 2kcal!
Kay J.

Singapore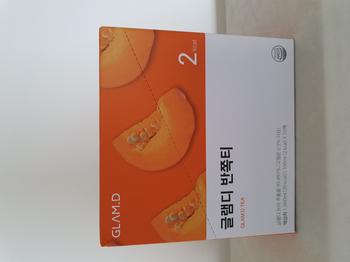 11/20/2020
It works!
I drank 2 packets and lost 0.4kg the next day. Prior to that, my weight was 50.9kg constantly.
Joyce H.

Singapore
09/08/2020
Great Product
I love the overall taste as it isn't sweet as I thought. It does help me to reduce my chubby cheeks and bloated tummy as well. Love it :D
Chen S.

Singapore
03/24/2021
Loving it!
I love the taste of the tea and it's refreshing, just started trying 2 packs and will update if I achieve any results !
Vanessa C.

Singapore
02/22/2021
Woo Pumpkin tea?
have yet to try it yet but definitely looking forward to trying it.
Marianne T.

Singapore
02/21/2021
Good Excellent!
Will buy it again. Nice taste and can help for loose bit
Susan T.

Singapore
02/06/2021
Good and nice packing
Haven't try yet! Hope it works!
Anonymous

Singapore
01/17/2021
Slimming tea
Product taste so good
Celine C.

Singapore
01/13/2021
It can work and lesser bloated
I drank 5 packets and not sweet. It help my tummy lesser can work, I will consider for buy this products again.
Susan T.

Singapore
11/27/2020
Nice and great taste
Great! Second time purchase. Taste great too!
Eelyn Z.

Singapore
07/08/2020
Eliminates bloating
I wake up with a flatter tummy because of the pill. It helps with de-bloating. Also helps me achieve a regular and healthy bowel.
07/06/2020
Repeat customer of Glam D
Glam D curbs appetite and make you feel full. Will continue to see the effect
07/06/2020
Slim Cut Set (Double Diet + CLA)
3rd purchase already and im still loving it.