Glam.D Cut CLA Capsules (Bundle)
(90 Day Supply)
Buy 3 CLA Diet Capsules to save $9 (with FREE Shake Trial Kit & Travel Case)
Singapore's #1 GLAM.D Capsules, now in 3-MONTH Supply!
Cut Down Body Fat, Boost Energy and Metabolism!

Beloved by K-POP Girl Groups
Patent Ingredient Derived From Nature

Prevent Gaining Weight Easily
Get Glamorous
Here at Glam.D we provide you with a complete guide not only for weight loss, but also for living a balanced & healthy lifestyle. Glam.D has designed a tailored product for every body type and dieting need. You're sure to get GLAMMED on the inside and out with our perfect solution for healthy dieting.

Trusted and Qualified GLAM.D
Real Customer. Real Results*
*Individual results may vary.
Cut Down Body Fat,
Boost Metabolism
Patent & Safe Ingredient Derived From Nature
Change Your Body Into 'Don't Get Weight Easily' Type
Beloved Item by K-POP Girl Groups
Recommended for
Prevent Weight Gain
Anyone who gains weight easily
Boost Metabolism
Anyone who wants to boost up metabolism (BMR)
Energy Boost
Anyone who wants to be energized
Main ingredients
CLA (conjugated linoleic acid)

A safe natural ingredient dervied from safflower seeds that helps to reduce body fat


Vitamin B

helps to boost up our body's energy and metabolism.
Safe Glam.D
Glam.D is dedicated to producing the best-quality and safest products backed by researchers and experts in the field.
Customer Reviews
Write a Review
Ask a Question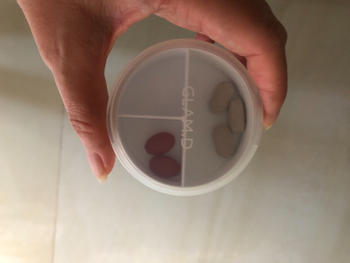 06/16/2021
So far so good
Today is my 4th day taking Glam.D so far so good. Smooth motion. Definitely will continue to see the result.
Verlyn Y.

Singapore
06/18/2021
Love your capsules
Thank you for helping me!!!!
Valerie N.

Singapore
06/03/2021
Really helps with maintaining weight!
I've noticed some differences when I take these pills and when I don't! Of course it works a lot better when you workout, but otherwise it helps with just helping manage your daily food intake. Especially helpful during this period when we hardly go out! Plus delivery is always super fast.
Geraldine S.

Singapore
05/11/2021
Glam D CLA
Finished one bottle but don't think I have lost weight. Only thing I like is i have less craving for food and don't feel hungry so fast.
Mei T.

Singapore